New Episodes
 "After a production hiatus of several years, the Sheep Laughs Comedy Show is back with new episodes, on an all-new website!
And of course Eagle Wings Online Radio will carry them all.
Be sure to subscribe to the show on the "Subscribe" page, and keep up with new episodes as they are uploaded!
Listen to the first new episode here, and watch for new ones to be posted regularly. 
https://christianskitscripts.com/podcast/2019/06/28/sheep-laughs-comedy-show-100/
Or, just go to the main site here: 
www.SheepLaughsComedyShow.com
!

Sheep Laughs Comedy Show
The Sheep Laughs Comedy Show is a weekly 15 minute professionally- produced and family-friendly variety radio show, featuring clean comedy by Christian comedians. Standup, skits and songs, all under one hoof!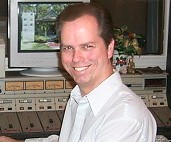 Fred Passmore
Produced by long-time radio and comedy veteran Fred Passmore, of Sheep Laughs Records, The Sheep Laughs Comedy Show is available for radio airplay, for listening while on this page, or for downloading to your iPod to take along with you.
Each week, you can enjoy a new fifteen minute program that showcases a wide range of Christian comedy talent. There's a lot of dedicated talent out there... and Fred is rounding it up and herding it all together for you to enjoy.
Jeremiah the Janitor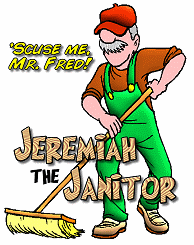 Plus, you'll be "swept away" by the janitor with the jokes, "Jeremiah,"
heard just about every week on the program!Beginning with program #10, Jeremiah often stops by the studio ("coincidentally" only while I'm taping) to tell one of his humorous stories, as only he can!
All this now from Monday to Friday at 02 AM and 02 PM CST on your own Eagle Wings Online Radio.
With thanks to Fred Passmore for providing this Great Clean, Christian Fun.