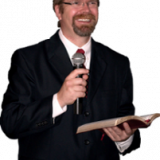 The Power of Prayer (R.A. Torrey)
Book Review
R. A Torrey was chosen by Dwight Moody to be the first Superintendent of Moody's new Bible School, now known as the Moody Bible Institute.
When Moody unexpectedly died during an evangelistic campaign, Torrey was chosen to be his successor, continuing D. L. Moody's evangelistic ministry.
Reuben Archer Torrey 1856-1928

R. A. Torrey was an American evangelist and Bible scholar, a graduate of Yale College and Seminary (Yale University and Divinity School).